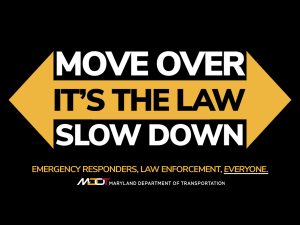 Graphic: Maryland Department of Transportation, Maryland State Police
Beginning October 1, 2022, the Maryland Move Over Law expanded to include all vehicles pulled over on the side of the road with hazards on and/or road flares displayed. In doing so, Maryland becomes the eighth state in the nation to expands its move over traffic law to cover all types of vehicles — not only emergency responders, law enforcement and tow trucks.
The original Maryland Move Over Law went into effect in 2010 as a way to protect police officers on the roadside from deadly traffic accidents. The original law established a buffer between moving traffic and those broken down or pulled over on the roadside by requiring oncoming vehicles to slow down and move over from the right lane into middle or left lanes, if safe to do so. In the following years, the law expanded to include other types of vehicles….
According to the Maryland State Police website, in 2014 the law expanded to include not only law enforcement vehicles but tow trucks, fire trucks and medical and rescue vehicles. In 2018, the law was expanded once again to including transportation, service and utility vehicles, as well as waste and recycling trucks, with flashing lights or signal devices. The 2022 law expands to cover any type of vehicle on the roadside with hazard lights flashing or flares lit.
We have all read news stories where a police officer responding to a broken-down vehicle tragically loses their life when struck by a motorist who failed to move over. Anyone broken down or pulled over on the roadside is in a potentially perilous position – if oncoming traffic isn't paying attention and heeding the law.
Maryland motorists have paid attention to the Maryland Move Over Law, as evidenced by the decrease in numbers of citations and warnings issued. In 2014, troopers issued 5,408 citations and 12,179 warnings. By 2021, those numbers had decreased to 886 citations and 4,030 warnings for move over violations.
Violating the Maryland Move Over Law is a misdemeanor that carries a $110 fine and one point against your driver's license. If the violation causes a traffic accident, the fine increases to $150 and three points. If there is a death or serious injury as a result of the crash, the fine is $750 and three points. The law is in place to help motorists avoid motor vehicle accidents and save the lives of people on the side of road, including drivers who've broken down and responders who are they to help them.
Maryland motorists are advised to pay attention on the road, keep your eyes open for those pulled over or broken down on the roadside, and then slow down and move over, safely. Someone's life depends on it.
Related Maryland Injury Attorney blog post:
Maryland's "Move Over Law" Expands to Include More Vehicles, Protect More Workers  March 2019
Sources:
Maryland State Police Reminding Motorists Move Over Law Expands To All Vehicles Beginning Oct. 1
Maryland State Police News Release  Sept. 30, 2022